Analogue Electronics Experiment Kit Vocational Training Equipment Electronics Laboratory Equipment
We provide Analogue Electronics Experiment Kit Vocational Training Equipment Electronics Laboratory Equipment with great production line and offer fast delivery, professional team, effiective function, friendly service, technology support.
| | |
| --- | --- |
| Brand Name: | Zhongcai / ODM |
| FOB: | Get Latest Price |
| MOQ: | 1 Set |
| Lead Time: | 15 ~ 30 |
| Warranty: | 1 Year |
| Certificate: | ISO9001/ISO14001/CE |
| Application: | Vocational Training For Electrical Trainer |
| Catalog: | |
ZE3156 Analogue Electronics Experiment Kit Vocational Training Equipment Electronics Laboratory Equipment
Product Introduction: 
Analog circuit experiment box make all the experiment module concentrated distributed on the circuit board, lead out the down-lead through the locking type jack, student can set up circuit by themselves according to experiment project, it can cultivate the ability of thought and start work, it also enhance the applicability of this experiment box. Analog circuit experiment box is based on the teaching experiment of  " higher technical school fundamentals of electronic technology  basic requirements of the course teaching" including all the experiment content of " basis of analogue electronic technique" it is the last type experiment machine for the electronic technique, electronic circuit and other course of institutions of higher education, secondary specialized school and TVET university. 
 Experiment box content 
   1. Power supply: input: AC 220V±10%,50HZ 
        Output: DC: - 5V~-12Vadjustable, I≥0.2A 
                    DC: +5V~+27Vadjustable ,DC I≥0.2A 
                    DC: ±12V,+5V,DC I≥0.2A
 The above circuit have overcurrent protection, self-recovery function 
  AC V:7.5V×2;AC I≥0.15A
2. Adjustable DC signal source: 
     Twin channel-0.5V~+0.5V, -5V~+5V two gear continuously adjustable.
  3. Low frequency signal source: 2HZ-20KHZ 0-10V(newly increased) 
  It can respective output square wave, triangular wave, sine wave. 
4.Digital frequency meter and DC voltmeter( it has A9, doesn't has A6) 
5.Discrete component circuit   
Rectification, smoothing and voltage regulator circuit. 
Single stage amplifies circuit
Two level rc-coupled amplification circuit
Negative feedback amplifier circuit
Emitter follower
Differential Amplifier
Complementary symmetry power magnifying circuit
Potentiometer group
Resistance, capacitance and Diodes Transistor, field-effect tube, silicon controlled, etc. 
6. Integrated analog circuit 
Two independent operational amplifier (741), integrated power amplifier(LM386) 
 Operator can configurate the board expansion areas according to requirement 
Main characteristic 
 The experiment board front side of this experiment box adapt imported wrinkle varnish, with principle diagram and symbols. It is equipped with corresponding component, it can make the student increase the perceptual knowledge, the portion installed on locking connector which need measuring and observation, easy to operation, reliable, maintenance-free, simple and direct. 
Experiment circuit adapt unit circuit type design, each unit circuit based on the basic circuit, then connect to different component as circuit parameter, or according to different unit circuit combination, it can complete different experiment requirement. This experiment box is made up by integrated aluminium alloy profile, elegant colour and modelling, box fastness and reliable, no deformation, light weight, good insulation and safety performance, easy to open and close the case cover, nice exterior.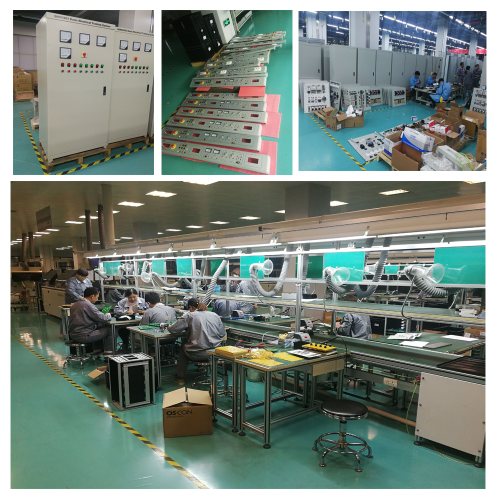 Experiment project
1.Single stage amplifies circuit                   
2.Two-level amplifier circuits                  
3.negative feedback amplifier circuit             
4.emitter follower                     
5.Differential Amplifier                   
6. Proportional summational operation circuit               
7.Integral and differential circuit                
8. Wave generation circuit 
9. Active power filter                    
10. Voltage comparator
11.IC circuit RC sine-wave oscillator
12. Integrated power amplifier
13. Rectifier filter and shunt regulating circuit 
14. Serial regulating circuit
15. Integrated voltage stabilizer
16.RC sine-wave oscillator 
17.LC oscillator and frequency-selective amplifier
18. Current /voltage switching circuit  
19. Voltage / frequency switching circuit 
20. Complementary symmetry power amplifier 
21. Waveform inverter circuit
22. field-effect tube experiment (newly increased)
23. Silicon controlled experiment circuit ( newly increased )
Configuration: one experiment box mainframe  
One three core power line 
One experiment guidbook
35 double-end experiment line