Microcontroller Programming Control Trainer Didactic Equipment Electrical Workbench
We provide Microcontroller Programming Control Trainer Didactic Equipment Electrical Workbench with great production line and offer fast delivery, professional team, effiective function, friendly service, technology support.
| | |
| --- | --- |
| Brand Name: | Zhongcai / ODM |
| FOB: | Get Latest Price |
| MOQ: | 1 Set |
| Lead Time: | 15 ~ 30 |
| Warranty: | 1 Year |
| Certificate: | ISO9001/ISO14001/CE |
| Application: | Vocational Training For Electrical Trainer |
| Catalog: | |
ZE3157 Microcontroller Programming Control Trainer Didactic Equipment Electrical Workbench
1.1 Overview
The training bench includes a variety of typical microcontroller programming control technology application circuit units, through the experiments, you can be familiar with the electrical characteristics of the microcontroller, and grasp its control theory and control way, it can cultivate students' corresponding knowledge and skills, it is suitable for training teaching and skill training evaluation of higher vocational colleges and undergraduate colleges, and can meet the project design of relevant professional students.
1.2 Characteristics
(1)The training bench uses aluminum column frame structure, power supply is built-in integrated installation, it is easy to use and it is not easy to be broken. 
(2) The unit circuit hanging box configuration is complete, students can make combination, and finish training contents of many subjects. 
(3) The related unit hanging boxes can be increased or decreased flexibly according to experimental subject setting, in order to satisfy the demands of different users.
(4) Training bench has high safety system. 
2 Performance parameter
(1) Input power: single-phase three-wire system, 220V±10% 50Hz
(2)  Dimension: 1200mm×600mm×1300mm
(3)  Whole capacity:<1.0KVA
(4) Weight: <100kg
(5) Work environment:
Environment temperature: -10℃~+40℃
Relative humidity:  <85%(25℃)
3 Product composition 
3.1   Power control panel
The power control panel uses aluminum alloy panel, all close type box structure, the upper part uses industrial aluminum profile as detachable hanging box fixed beam, the training hanging box can be easily removed and installed.
3.2 Training bench
The training bench uses aluminum upright support. There are universal wheels at the bottom with brake mechanism, the bench can be moved or positioned flexibly. The bench top uses 25mm thick high density substrate, and there is high temperature high pressure anti-fire treatment process. It is equipped with two three-section rail type drawers, and two double acting door bottom cabinets. The structure is sound and reliable, outlook is beautiful.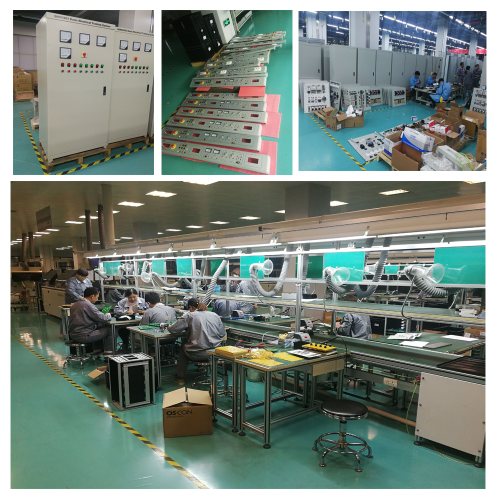 3.3   Power box
 (1) Single-phase three-wire power input, it is controlled by leakage breaker, it has emergency stop button, you can press emergency stop button breaker to cut off electricity when emergency.  
(2) Analog voltage meter is used as output indication.
(2)It is equipped with power indicator, Europe power output socket and safety power output terminal.
(3) 5V,12V DC power supply output are built-in, with short circuit protection function. 
3.4 Main matching experiment hanging box and devices
(1)CPU (80C535 or 89S52) unit and user and display unit experiment hanging box.
(2) Anti-theft sound and light alarm unit experiment hanging box
(3) Traffic light control unit experiment hanging box 
(4) Step motor drive and control unit experiment hanging box 
(5) Liquid proportion mixing control unit experiment hanging box 
(6) Tunnel ventilation system control unit experiment hanging box 
(7) Temperature measurement and control unit experiment hanging box 
(8) Microcontroller programmer and development tools 
(9) Digital Multimeter 
(10) K2 test line 
(11) 4MM SAFETY  safety electrical cable  
(12) Electrician tool box
(13) English user manual, demo CD
4 The training projects which can be completed
1. Microcontroller basic programming experiment:
Digital electronic clock circuit experiment 
Digital room temperature display circuit experiment 
Buzzer circuit experiment 
8-bit LED Digital tube circuit experiment 
EEPROM memory circuit experiment 
Serial communication port circuit experiment 
Microcontroller external interrupt circuit experiment
2. Microcontroller process control programming experiment:
Anti-theft sound and light alarm unit circuit programming experiment 
Traffic light control unit circuit programming experiment 
Step motor drive and control unit circuit programming experiment 
Liquid proportion mixing control unit circuit programming experiment 
Tunnel ventilation system control unit circuit programming experiment 
Temperature measurement and control unit circuit programming experiment
Microcontroller integrated control circuit programming experiment